IAK YUKAI


(Japanese: いあくゆかい Iak Yukai)

NAME INTERPRETATION:
いあく (Iaku - Iak) - Kai backwards
ゆかい (Yukai) - Japanese for "Happy/Joy"

TYPE: YuKaiLoid (UTAUloid)
MODEL: <3 00 - The "00" can be find on his left upper arm.
Though the "<3"'s location is, unknown.
GENDER
Male
VOICE RANGE
C4-A2
RELATED CHARACTERS

Ouy Yukai
(Counterpart/Boyfriend)
Kai Kim
(Older brother)
KaiKai Kim
(Older sister)
Yuett Egao
(Friend)
Youe Egao
(Friend)

AGE
19
GENRE
Any
HOMEPAGE
YuKaiUTAU Productions
WEIGHT
52Kg
CHARACTER ITEM
Ouy
CREATOR
KaiSuki
DeviantAR
YouTube
HEIGHT / MEASUREMENTS
5'1 / 1,54cm
VOICE SOURCE
KaiSuki
PICTURE LINK LIST
ConceptArt,

BIRTHDAY
December 20th, 1992
LIKES
Relaxing, Cuddles, Ouy.
MEDIA LIST
YouTube
RELEASE DATE
December 20th, 2010


Non public

DISLIKES
Being bullied, Loud noises.
SIGNATURE SONG
Matryoshka

PERSONALITY:
Sensitive scaredycat. Iak is in many ways the oposite of Kai.
He is a quiet and careful crybaby. But at the same time very caring and sweet.
He doesn't like to be in the way for people and tends to just stay away together with Ouy.
While still being a bit scared of Ouy, he is Iak's best friend, aswell as boyfriend.

Character Design
Edit
Hair color: Short red hair and longer black fringes
Eye color:Yellowish orange
Shirt: Black leather midriff with zipper from neck to ribs, sleeveless with semi open sides.
Arm-warmers: Black with red ends
Pants 1: Black leather pants with red ends that stops under his knees
Pants 2: Short black skirt worn ontop of his pants
Feet: Black boots with red soles
Other: Has a beautymark under his right eye
Nationality: Korean-Swedish
Voice Configuration
Edit
Iak and Ouy are much like the mascots of the YuKai UTAU Productions.
They were the first ones to get an actual voicebank, using both KaiSuki and nekodoru's voices.
Iak and Ouy are two different UTAU's but they share one voice.
They are recorded with only half a voice bank each and together they make one whole.
This means they don't always run as smooth, but it just adds to the charm factor,
since they're regarded as "The Fail YuKaiLoids".
This also means you can't make a song with them and claim it to be just one of them.

Since they share one voicebank they are usually told apart in duets, by changing the genderfactor.
Giving Iak a slightly higher range and a lower one for Ouy.
How ever they are still supposed to sound alike, so they're not like Genderbends
where one is very dark and the other very light.
The voicebank is encoded in Hira and Romaji.
They lack some syllables but usually works with most japanese songs.

BETA Currently without any official release.
Extra Character Relation
Edit
Is very shy but doesn't mind to cuddle openly with Ouy.
Wishes that Ouy would stop being so aggressive towards others.
Doesn't like it when people mistake his name for Lak
Though he shares the same family name as Ouy and not Kai and KaiKai, he is related to them and not Ouy.
He only wears his skirt because it was a gift from Ouy, back when Ouy thought Iak was a girl...
Does NOT want to be seen a girl.
Usage Clause
Edit
Contact KaiSuki or nekodoru if you want their voicebank.
Do not change his design unless just clothing for a specific song.
Please try not to forget his beautymark. :3c
Please DO NOT use any other pitches than has been given in the info above.
If you wish to use him for RolePlay please ask me first.

Concept Art
Edit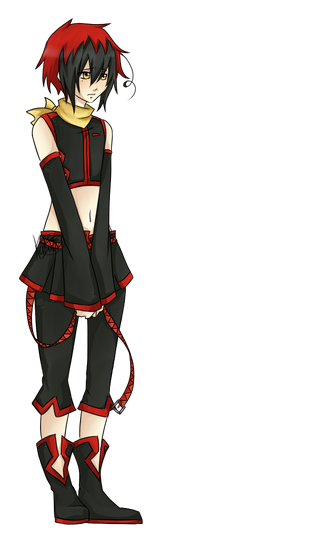 This article has been written by the creator of Iak Yukai.
Please do not change any info.